Supersize Me! Here are the Metros Where Buyers are Clamoring for Big Homes Again | Check out #1!
Posted by Melody Moser on Monday, March 15, 2021 at 9:26 AM
By Melody Moser / March 15, 2021
1 Comment
Not long ago, it seemed just about everyone was obsessed with the tiny-home trend. So cute! So teensy! People were wondering: Just how small can a home get while still being cool and remotely functional? Well, we may never find out. Because, as with many things in the past year, the coronavirus pandemic has turned the "less is more" mentality on its head.
Now, bigger is definitively better again when it comes to houses. In these postlockdown times, home buyers seem desperate for more space, whether for a big yard, a dedicated home office or two, maybe a homeschooling area, home gym, or an extra bedroom or three. Palatial abodes are topping most buyers' wish lists.
Even the long derided McMansion—those oversized, column-bedecked, architecturally confused totems of the ostentatious '80s and '90s—are ultrahot again. It's true!
Large homes, clocking in at 4,000 square feet and up, were selling faster in more than 70% of the 150 largest metro areas in February compared with the same month last year. The realtor.com® data team set out to find which metropolitan areas have the highest percentage of supersized residences up for sale, so buyers can revel in all that extra square footage.
We looked at the 150 largest metros with the highest percentage of single-family homes measuring 4,000 square feet and more on the market in February. (For perspective, the average square footage of a new single-family home was 2,500 in 2020, according to U.S. Census data.) We also limited our list to one metro per state. Metros include the main city and surrounding towns, suburbs, and smaller urban areas.
One massive caveat: There's no way to separate large, tasteful homes from the more garish McMansions in our data. They're all part of the burgeoning mammoth-home mix! Tread carefully.
So which are America's housing markets with the biggest cribs, and why? Let's take a look.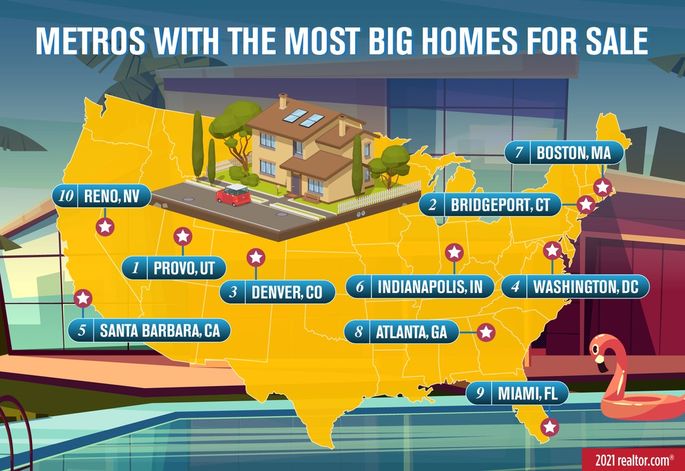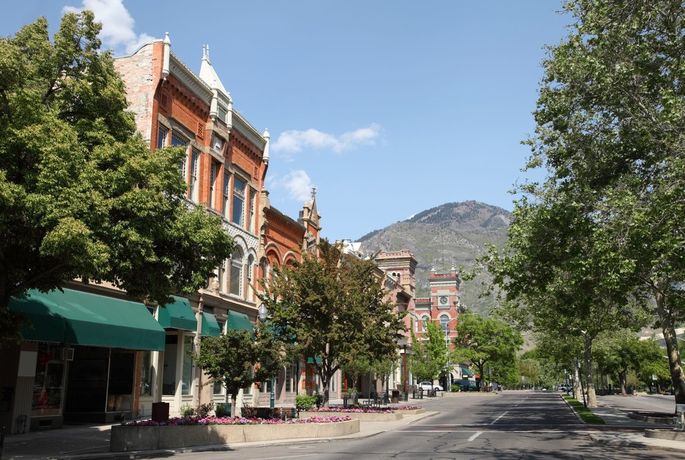 More people are flocking to Provo, UT, and they're looking for large homes with mountain views. Getty Images
Median list price for homes 4,000 square feet and above: $1.04 million
Less than an hour from Salt Lake City, Provo has experienced a tech boom in recent years. It's little surprise that, with remote work having become the norm for many white-collar workers, more are deciding to make the move from the West Coast to this lower-priced metro.
For example, the median home price was $1.2 million in Silicon Valley's San Jose, CA, in February and $599,000 in Salt Lake City compared with $541,950 in Provo. Hey, if you can work from anywhere, why not save some dough?
The area's large Mormon population is also spurring demand for larger homes. Mormons tend to have more children than other religious groups in the U.S., according to a 2015 Pew Research Center report—an average of 3.4 children, compared with 2.1 for all Americans. After a year of living in close quarters, many of these families are clamoring for some extra breathing room.
While inventory is tight, prospective buyers can snag this seven-bed, 3.5-bath manse in the Foothill Park neighborhood for $819,900. It boasts a grand master bedroom with an attached office for people who just need to shut the door and get to work with limited distractions.
For the Full List: bit.ly/38JYfkC
By Elena Cox | Mar 15, 2021